Ruth's Ramblings; A Minister's Blog
 Dec 12 2018
We're proud of this....but....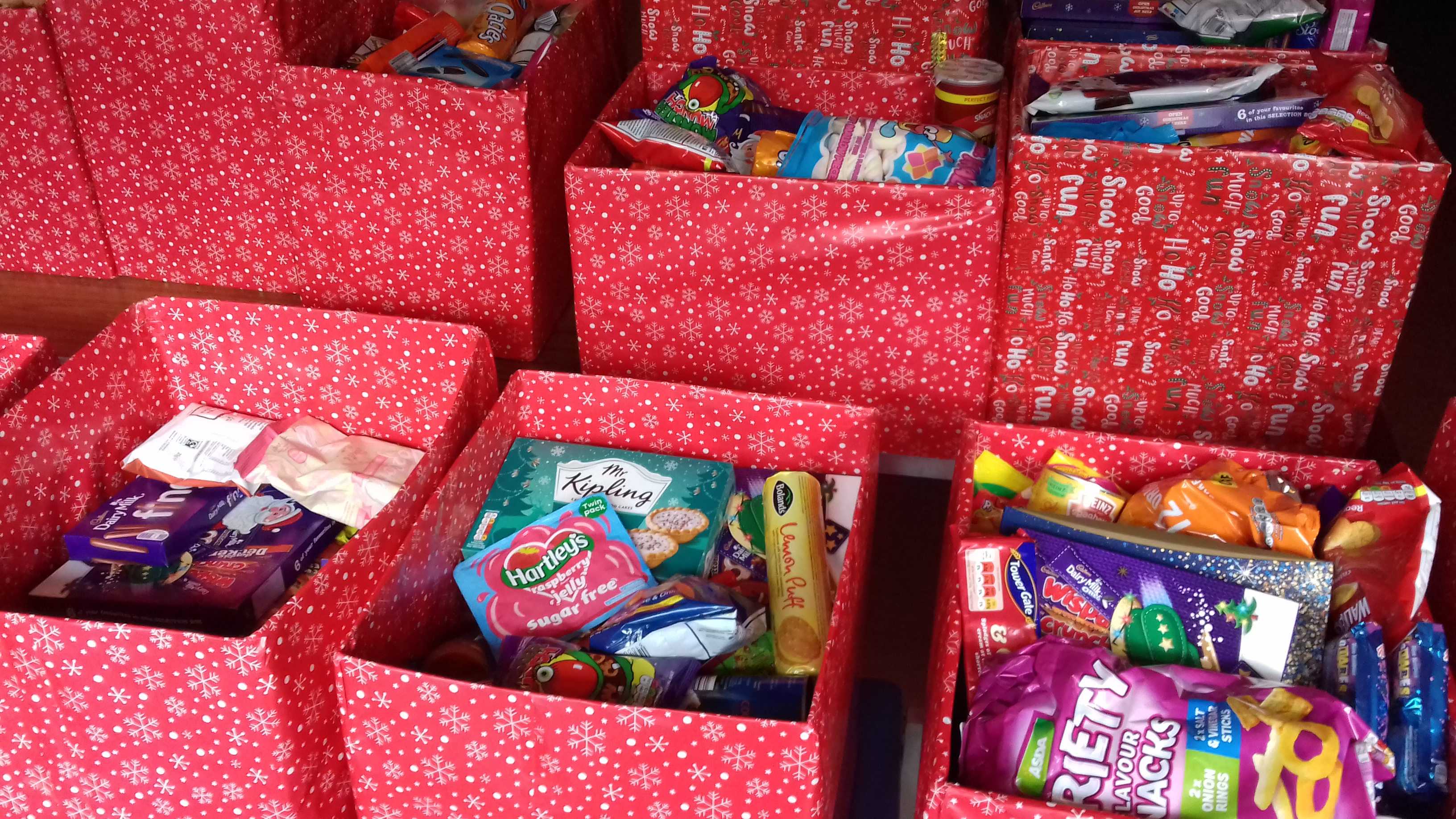 Youth Groups and Congregation spent time and energy (and resources) putting together these hampers - purchasing and donating the goods in them, wrapping them to be festive, packing them, and delivering them to a centre from where they will be distributed by social services to families who need them.
I am incredibly proud of the generosity, imagination, commitment and determination represented by these hampers, delighted that all parts of our church community have taken part in putting them together and making them available. I am thrilled to be part of a church community that takes this kind of generosity and care in its stride. A somebody said to me, when I commented on how great I thought it was; "Well, it's what we do, isn't it. It's the right thing to do." And, yes, very much yes.
And I am ashamed, and horrified, and angry that I am part of a society in which this is needed. As somebody commented, putting up similar pictures on our facebook page; we are the 5th richest country in the world.
So, why are we needing to do this?
I am delighted that we can....but something is badly wrong.
A week on Sunday, we will be listening to Mary's song. That includes the lines "He has filled the hungry with good things, and the rich he has sent empty away."
Feeding the hungry is a duty and I am glad to do it. But asking why they are hungry, addressing these issues and challenging these structures - that also matters, and is also gospel.
Lord, give us ears to hear, and will and imagination to act.
Dec 6 2018
A Community Event
Last Saturday was our Christmas Fair. I suppose a purist might want to call it an Advent Fair, but we have decorations, we have a tree, we have Santa; we know what we are doing.
And it was a delight!
I was, I confess, a little anxious. For various good reasons, our publicity this year has been less than before. I was concerned that the only people who would be there would be those who had heard about it in the Sunday notices.
O ye of little faith.
All sorts of people were there. They came to run the stalls, to buy from the stalls, to eat the delicious bacon butties, to visit Santa, to be with friends. People came who are part of the Sunday congregation, and who are part of the weekday community, the Day Centre, the Youth Groups, the Toddlers' Group, families, friends, neighbours.
Yes, we could have advertised it more, yes, we could have coped (just!) with more people. But it was a delight to see people together, to see people feeling at home, to know that all sorts of people know that this is a space where they belong and where we can all be together.
It is true that we could do with raising our profile more - and we will be looking at this in the new year. There are all sorts of people who already regard us as "their" place; but there are, I am sure, more who have time, energy and inclination to be part of the community through volunteering, through coming to Youth Groups, to Toddlers' Group, to Day Centre, if they only knew about it. There are, I am sure, those who would find in our Sunday gatherings, space and place to meet with a Love that can renew life.
Saturday was a delight. I learned a little more about what it is to be part of a church that is so rooted, so strongly connected to its community - I have more to learn, but it is good to be making a start.
As we look to find ways to let more people know about the amazing stuff going on here, please join me in prayer that we do it well, we do it appropriately, we do it honouringly to who we are and who we are called to be.  
Nov 28 2018
When's Christmas?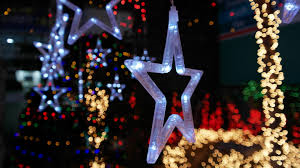 It's not quite advent.
Which means it is definitely not Christmas.
But.....but, the lights are going up in various places, there are trees to be seen, the words "Christmas party" are appearing in the diary, and all my minister friends are either looking smug because everything is prepared, or panicked, because it isn't. (I'll leave you to guess where I am in that continuum!)
It is customary to complain that Christmas is starting earlier and earlier, and even too early. And in some ways, I want to agree, It is sad to miss Advent as a season, to lose the chance of reflection, prayer and preparation that it gives, (and if you want to engage with that, Breathing Space on Thursdays during December might suit) Taking time to be ready, not just by making sure all the food is bought, the journeys planned and the presents wrapped, but also relationships mended, quarrels forgiven, estrangement restored - yes, and justice addressed, repentance offered, forgiveness received....all of that deepens our faith and furthers the Kingdom. 
But that said, on dark, driech days, I love the lights and the sparkle. A reason to get together is good, and the fun and the joy of sharing company can't but benefit us - and the more it happens, the better.
At the end of A Christmas Carol, the reborn Scrooge promises to keep Christmas in his heart every day. As those who live as followers of Emmanuel, God With Us, why should we confine celebrating that great promise of companionship and presence to just a few days at the end of the year....as somebody else once said, I wish, theologically at lease, that it could be Christmas every day...
Nov 7th 2018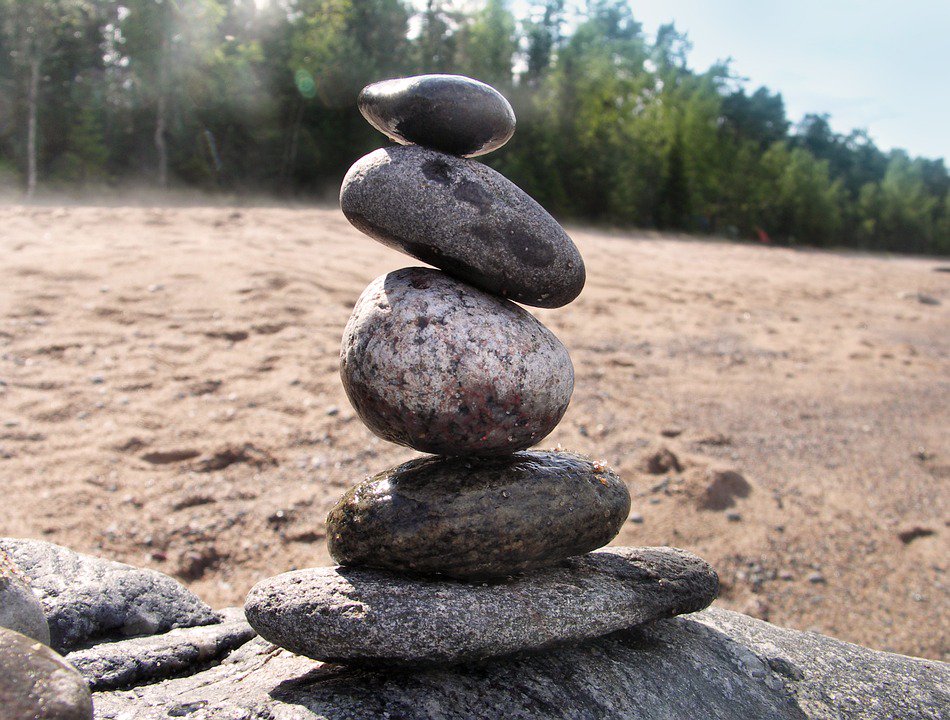 Our AGM
This week is the church's AGM – it's one of those dates reputedly guaranteed not to set the heart beating with anticipation and delight. It can be a very happy time, and one full of encouragement and excitement. But there is something about the very title Annual General Meeting that sounds heavy and portentous.
I wonder if we might serve ourselves well if we thought about renaming, or supplementing the name of the meeting? If we referred to this meeting as Our Gratitude Gathering, or Our Community Celebration, or even Our Ebenezer Event (do you remember the hymn; here I'll raise my Ebenezer, hither by thy grace I've come…., a line in Come, Thou Fount of every blessing. Just in case you're not up on the biblical references, 1 Sam 7;12; Then Samuel took a stone and set it up between Mizpah and Shen. He named it Ebenezer, saying, "Thus far the Lord has helped us.")
OK, maybe not, and especially, maybe not the last. But it is, as well as the time to do the necessary legal work, a time to celebrate, give thanks, thank one another and look forward hopefully.
So, even though I am really not a meeting person, this week's meeting is one in which I rejoice.
Nov 1st 2018

Being with...


Yesterday, I had the privilege of sharing in a conference sort of thing, in which some churches in the area of Greater Manchester gathered to reflect on different aspects of being church today in our various contexts. Much of what was discussed, shared and explored will feed into our reflections over the next months, as I have listened and learned.
One of the significant themes that emerged was the importance of the word "with"; ways in which we are "with" one another, ways in which God is "with" us. The contrast was drawn between "with" and "for". So, for example, very often, we think of God as doing things "for" us, or of us doing things "for" God.
So we pray to ask for things to happens, and we act and offer in order to do things that God needs done. And there is nothing wrong with that – much of prayer as we learn it from Jesus, see it modelled in the Psalms is asking God to do things. And our service is part of our discipleship, and a part of the Kingdom.
But, as we move towards Advent, and the celebration of Incarnation that is the heart of Christmas, so we are reminded that the Name given to the Baby was Emmanuel – God WITH us. And this is an important part of Incarnation…that God is not outside our lives, God is not over against our lives, but is in our world, and in our lives with us.
So, what might that call us to? Being "for" people is a thing we are good at, I think….we do a lot that helps, through our various activities, through collecting for the Foodbank and Wellspring and in so many informal ways. And wonderful they are.
We do a lot that is for those whom we serve – we give, we welcome, we support, we encourage, we resource…..we do good things for people.
I love that we are also looking for – and can always look for more – to be "with" people; not just to do things, to offer activity, but to be with – to meet, to listen, to share, to receive, to encounter and be alongside. Just as, in Incarnation, Jesus was vulnerable and changed, impacted by those whom he was with, so in our being with as well as doing for, we will be changed, we will receive, we will be vulnerable, and therefore all the more human.
Friends, let us never let go of the importance of being "with" and hide in the security of doing "for"; the more we can be with, the more we discover God with us.

24th Oct 2018
Thanks....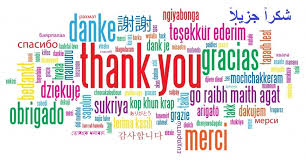 It's half term week, and so Day Centre, Youth Groups and Toddler Group are not happening. So, since I had a long call to make using the computer, and since the wifi in the manse is not always dependable, I thought I would go over the church building and use the wifi there, since I wouldn't be getting in anybody's way, and could depend more on things working.
Turns out, of course, that while none of the groups may be meeting, still there are people coming and going from the building, undertaking various tasks, and dealing with various needs. This was great, since it meant that my sojourn in the building was not as lonely as I feared. It was also illuminating; I know that lots of people do lots of things in the background that I have not yet understood, nor even know need to be done. This time in the building means that I am no better informed. I still don't know all that goes on, or all the responsibilities that people carry out – but I've filled in another small corner of the picture of life at Grove Lane.
No community is simple. Nothing happens without lots of stuff going on behind the scenes, unnoticed, unrecognised, sometimes unthanked.
So, this week, I want to say thank you to all sorts of people who do all sorts of things that we'd notice if they didn't happen, but we don't necessarily notice when they do. To folk who just get on with it, folk who see a need and fill it, folk who, week after week, do something in such a way that nobody really notices, but on which we depend for comfort, smooth running, snag-free living, for faithfulness, kindness, attentiveness, dependability and patience. Far be it from me to rewrite Scripture, but I have been struck again this week by how much these are fruits of the Spirit, gifts exercised for the well-being of the body and the community. So, I want to say thank you, to all of you, and to God for all of you.
17 Oct 2018
Walking in the dark

Last week, I had the chance to take a (very small) part in the youth group's Night Walk Extreme. A route is mapped out for them, with staging points along the way, and they are set out to walk it in the dark. At each staging point, somebody meets them and gives them a task, and the direction to the next point. At one point, there is hot soup, and at the end, a place to sleep. (I was lucky; the task I was assigned to give was a taste test; I gave them blindfolds and then different things to taste and tell me what they were – since it was crisps and chocolate, I was popular!)
It was great fun, and the young people taking part clearly enjoyed it; the approached me over a hill, and I heard them long before I saw them, as the giggles and the shouts emerged, even through the wind (yes, it was the night of Storm Callum….) I'm sure for them it was a good experience, something that will remain with them as a time of adventure and fun, of stretching boundaries and discovering new capacities. That was my experience of doing such things in Guides some – many – years ago.
Now, as I reflect on the experience in the context of ministry and church life, it has resonances too. Walking in the dark, and only being able to see a short way ahead is very much what a lot of the life of a new minister feels like – and is, if we are honest, very often what a lot of life feels like; we may know what we plan, but planning and actually doing can turn out to be very different. Walking from stage to stage, trusting in the destination without actually knowing what it is…that is a good summary of life in general, and the life of faith in particular. And one of the joys of the life of faith is that we dare to trust that at each stage, there will be somebody there to support, encourage and point the way ahead; believers who are more experienced, others who have walked the journey in years and centuries before, friends with whom we have shared questions and the times of answers or not.
There are tasks and activities too; not always what we would expect, and sometimes asking from us things we didn't know we could do. Sometimes they are delightful, sometimes they are more challenging – but they are part of the journey, and each contributes to the overall experience.
The soup stop is represented as well; those moments of encouragement, refreshment and rest that turn up, sometimes unexpectedly – when joy wells up within, when peace surrounds us, when we find strength to undertake what we thought was beyond us, when the companionship and love of those around reassures and renews us.
I don't think those youngsters explicitly named what they were doing on Friday night as an exercise in faith. Yet that was what it was; they trusted that those who were organiisng things were indeed organising it, had gone ahead and knew the route, that those who said they would be at the various stages would be there, that the directions would get them from stage to stage – and that there would be somewhere to sleep at the end. Their confidence in undertaking this, and the care offered by those who made it happen has encouraged me in my exploration of faith in life; their fearlessness inspires me, and if those who care for them were so careful and supportive, dare I trust that the God whom I am convinced (on my good days) loves us with a love beyond imagining will be any less careful and supportive of our journey from day to day, task to task, moment to moment.
Thank you to the youth group leaders for letting me join in, to the youth group for accepting my presence….and please God, the insight that dark night gave me will continue to shape my ministry and my faith.
Oct 10th 2018
Fitting it all together....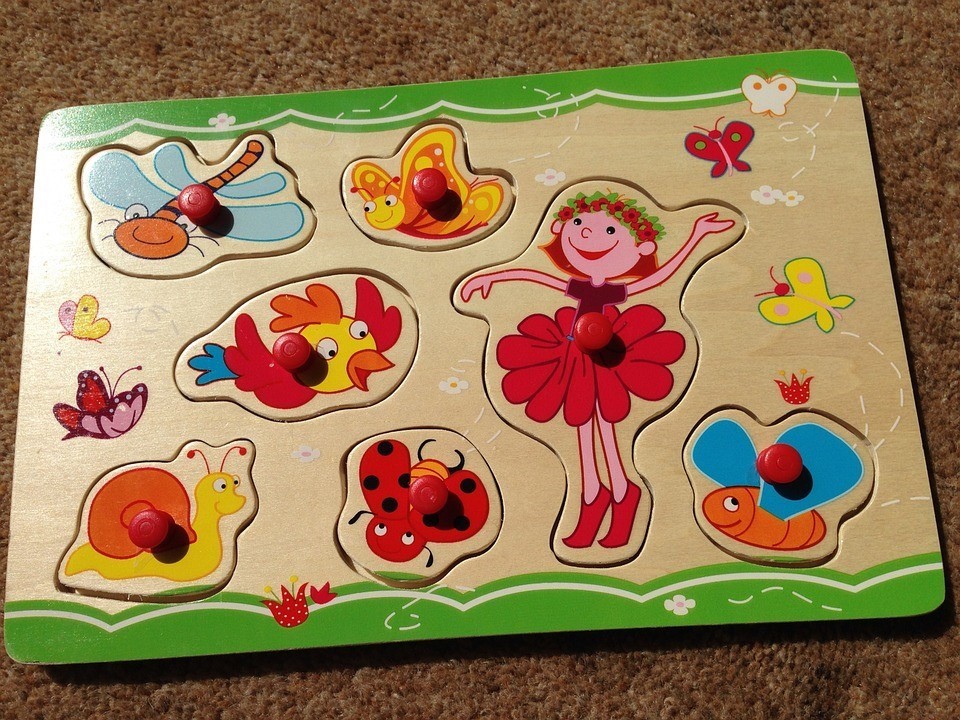 I've spent a couple of happy mornings doing jigsaws at Toddlers' Group – the kind of jigsaw that is made up of shapes with handles that fit neatly into slots with pictures in them. They are very popular with various of the tinies, and they show great skill in slotting pieces into place, often along with a fascinating commentary.
Indeed, when I say I have been doing the jigsaws, this is a bit of an exaggeration. Nobody needed me to help, so I simply sat and watched and admired.
And, since I can't quite follow the commentary, I spend some time reflecting on the process. It struck me that it is immensely satisfying to fit the right piece in the right hole. The sense of fittingness, of security and fulfilment when the right shape goes in the right hole is wonderful. It is such a wonderful image of fitting into our called place; knowing who we are and what we are for, and just slipping in and filling it up. I recently quoted Frederick Buechner in our twitter stream: "God calls you to the place where your deep gladness and the world's deep hunger meet". Fitting into the jigsaw feels like that.
There was another thought as well. Sometimes, the piece does not slip in easily – it is the right piece, but the wrong way round, or just slightly squint…and usually, the little hand trying to manipulate it is in a hurry, is in danger of forcing rather than easing, begins to show frustration and irritation…
And again; how often are we doing the same thing? We know how things should be, the way it should go, how it all fits together….and we want it that way NOW. And so, instead of taking time, catching our breath and letting it all come together smoothly and without strain, we end up pushing, forcing and insisting on our own way. And what should be a joy turns out to be frustration and squint.
Lord, give me the grace to see the jigsaw of my life clearly and to take my time and trust the shapes.
Oct 3rd 2018
No ordinary people
Being a teenager in the 70s, one of my musical influences was Billy Joel. And it was through his song "Everybody has a dream" that I first came across the phrase "quiet desperation", as he attempted to describe the experience of trying to make sense of life. I later discovered of course, that it is a phrase from Thoreau, and that appears in various other places, as poets, writers, thinkers all try to get to grips with this mystery of being alive – and the sense of frustration, sadness and loss that can afflict people, when the mystery is senseless., and above all, the smallness of living as people fail to find what they seek.
It is a phrase that haunts me. One of the privileges of my role is to spend time with people as they try to make sense of being alive, and living through wonder and joy, and also confusion, distress, loss and fear. And I find that often I expect to see "quiet desperation".
But I don't, not often. Instead, I see what I found the words for recently in a book I have been reading about being what the writer called "deep church" – that is, church rooted in faith, Scripture, prayer and the long tradition of the Christian community. As he discusses what it is to preach, he refers to another old phrase; the world of "giant souls and hearty sinners…those who know the soul's despair and its breathless gratitude." The writer goes on to argue that if we are taking church seriously, it is being aware of ourselves and each other as this; giant souls, living rich, amazing, deep and wide lives – not quiet desperation, but questioning, demanding, resisting, struggling, wondering, celebrating, rejoicing, loving, listening, crying and laughing.
It's easy to write us off as being small; we are a small and on the whole elderly congregation. We do not make headlines, we don't storm the gates of the powerful, we don't grab attention or make waves. Nobody writes us up as case studies in how to achieve massive growth, or spectacular outreach or social programmes.
But we are not in quiet desperation – or anything quiet or insignificant; we are alive with the depth of the life of Christ himself. We are giant souls – and yes, hearty sinners at times. Which makes us deeply forgiven and so breathlessly grateful. There are times when we know the soul's despair – and that is precisely the time when we meet the depth of reality that is what we call God.
I am loving the process of getting to know everybody in the fellowship. There are painful stories and joyful ones, there are situations of comfort and those of great demand. But what there is not is anything of "quiet desperation"; rather there are giant souls, with depth, capacity and potential for growth in God.
C S Lewis puts it far better, in a sermon preached in 1940, and published as The Weight of Glory:
It is a serious thing to live in a society of possible gods and goddesses, to remember that the dullest and most uninteresting person you can talk to may one day be a creature which, if you saw it now, you would be strongly tempted to worship, or else a horror and a corruption such as you now meet, if at all, only in a nightmare. All day long we are, in some degree, helping each other to one or other of these destinations. It is in the light of these overwhelming possibilities, it is with the awe and the circumspection proper to them, that we should conduct all our dealings with one another, all friendships, all loves, all play, all politics. 
There are no ordinary people. You have never talked to a mere mortal. Nations, cultures, arts, civilizations -these are mortal, and their life is to ours as the life of a gnat. But it is immortals whom we joke with, work with, marry, snub, and exploit – immortal horrors or everlasting splendours. This does not mean that we are to be perpetually solemn. We must play. But our merriment must be of that kind (and it is, in fact, the merriest kind) which exists between people who have, from the outset, taken each other seriously – no flippancy, no superiority, no presumption. And our charity must be a real and costly love, with deep feeling for the sins in spite of which we love the sinner – no mere tolerance, or indulgence which parodies love as flippancy parodies merriment. Next to the Blessed Sacrament itself, your neighbour is the holiest object presented to your senses. If he is your Christian neighbour, he is holy in almost the same way, for in him also Christ vere latitat – the glorifier and the glorified, Glory Himself is truly hidden. God grant us the grace to recognise each other and all we meet in this way.
26 Sept 2018
Lipgloss and the gospel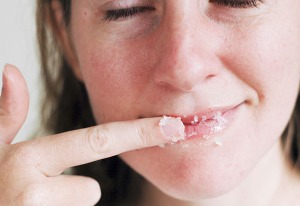 I am discovering that perhaps I should not take my bag when I go to Toddler Group. Or at least, take a bag that I can fasten. I was there yesterday, and as always, it was a delight. And one of the little ones decided that my bag was worth investigating.
Which is fair enough. He found my lip gloss. Also fair enough. He opened my lipgloss, and dug in his fingers. It's only Vaseline, he'll come to no harm, and it will survive. But it does make a bit of a mess.
However, he enjoyed it. In fact he enjoyed it so much, that, after going away and doing something else, he came back, unnoticed by me, rooted around, found the lipgloss and smeared it not only on his own face, but that of various other toddlers in the area.
No harm done. A bit of fun and some soft skin.
And it has set me wondering. There he was, doing what toddlers do – exploring, experimenting, making a bit of a mess, but nothing that signifies. IN the middle of it all, he had a lovely smile, and a sense of delight and excitement.
In fact, he was exhibiting all the kind of traits I would love to think we, as believers, express as we explore faith; a willingness to search and to try things out, rummaging around to see what's there and not just taking the first thing we see (he wasn't interested in the first things he pulled out – receipts!), getting in a bit of a mess, involving others, not looking very dignified, but being extremely interested…….
And even more than traits of us as the settled congregation, I wonder if it is a space we can offer to others – come and find out, see what's in here, try it out, get in a bit of a muddle and mess, make us slightly uncomfortable (I don't normally welcome somebody rummaging through my bag)
Maybe, we might, rather than wait for others to come in and rummage about, find ways of offering what we have, so that others might discover the delights of the life rooted in endless Love that we are exploring.
My lipgloss is a bit messed up now. It's got dips and lumps it didn't have before, and the lid is a bit greasy. But the wee one has discovered something, and had moments of joy. That seems a good thing to me….
19 Sept 2018
Treasures of the Church
At church meeting last week, we started by thinking about the "treasures of the church"; the gifts that we know our congregation has, and on which we depend. We invited people to call out facets of church life we wanted to give thanks for, and wrote them up. Among those named were wisdom and experience.
Lots of other things were offered too, but these ones caught my attention in particular. For it seems to me that they belong together. Experience, coming through living through events – and, crucially, reflecting on them, prayerfully and gently - is a significant gift in a congregation. Such a experience and the wisdom gained from it is very helpful; knowing what has happened, thinking about why, and the impact, and considering the wider context. Sometimes we can get so immersed in the ongoing day to day life of our lives – our congregation or any other aspect of our life – that we have no context, no framework to make sense of it. Especially when things are tough, we can forget that we are part of a bigger story, and that we live in a tradition. And, in particular, that other, real people, have lived through similar issues, challenges and demands – and have wisdom and good practice, and warnings and bad examples, to pass on to us.
Experience; reflecting on our lives and understanding them in context, setting them in a wider story, letting the gospel accounts interact with what is happening to us – all of this leads to glimmerings of wisdom.
I was blessed by being taught church history by a deeply wise man – who encouraged us to work hard at understanding the first four centuries of the church's story, on the basis that if we got to grips with that, nothing that happened in today's church would ever surprise us! And I have to say that, in the thirty-five years since I sat in these classes, much has happened in the local and wider church that has been, shall we say, interesting; but nothing that I have not seen reflected just as he told me.
So, let's give thanks for the experience among us. And learn to listen carefully to our whole story, our deep story and our wide story – and discover more of where God is leading us.
12 Sept 2018
The Induction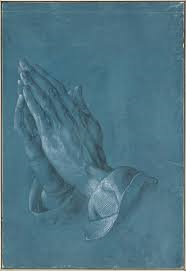 Well, that was quite something! On Saturday, I was formally inducted to the ministry here at Grove Lane.
It was a grand occasion. Lots of amazing people worked very hard, travelled significant distances, came to pray, to worship, to bless – and to eat cake. So much cake! I am so grateful for all that was done to make it such a good time, and to all those whose care, imagination, commitment and baking skills went into all that happened on Saturday.
During the service, I was invited to make various promises, and the congregation here was also invited to make promises. We based the promises on those written for the Baptist Union of Great Britain Assembly this year, for use during the recognition of those entering ministry. Among other things, we promised this together;
As a church, will you commit yourselves to being a movement led by the Spirit of God?
We will seek God's will and purpose.
Will you celebrate diversity?
We will value, trust and respect one another in Christ.
Will you be serious about discipleship?
We will embrace adventure and risk-taking faith in our faithful God.
Will you follow the Servant King?
We will be generous of spirit, encouraging and inspiring one another to be all that God created us to be.
Will you seek God's kingdom?
We will hunger and thirst after his righteousness, confronting evil and praying for the grace to seek to live the life of God's coming Kingdom now.
These are our hopes and these are our clear intentions.
Lord Jesus, head of the church make us your people for this time and place, and by your Spirit, make your Kingdom come among us .Amen
These are big promises.
We will fail. And we will let each other down, annoy, hurt and frustrate each other.
But, in the determination of these promises, and depending on the grace that holds, renews and sustains us, we will also, please God, forgive one another, bear with one another, allow one another to grow and change – and discover just what God is doing among us, and will do among us for the blessing of our community and the glimpsing of the Kingdom in this place at this time.
Thank you to all for making the day.
Even more, thank you to everybody who made such promises, and committed themselves to taking these risks.
Jesus, now lead on….
5 Sept  2018
Knowing what is going on….
On occasions I get to attend committees – and this morning was one of them. It was a meeting I had not been to before, and so fitted very well into the experience of these months; sitting there with a vague idea, but not really knowing what is going on, feeling like everybody else understands (which they do) because they know the story that has led to wherever it is we are now, and so can make sense of the comments aside, or the quick allusions.
Now, don't get me wrong; people here have been great at explaining things to me, filling me in on details, making sure I know what is going on enough to know what to do and how to respond.
But there is nothing the familiarity that simply comes with time and involvement to deepen understanding.
All of which has got me thinking about communication. Somebody was talking to me about it last night, so it was already on my mind. But the committee meeting this morning has taken my thoughts further. I was sent all the papers for the meeting – but without the context, even that didn't really give me enough to be able to make sense of it all.
As we talk about what we do and why we do it – face to face, or through the various poster, electronic and online media that we use to publicise our activities (and indeed, our values, faith and identity) what is it we need to explain in order to ensure that what we are talking about makes sense?
I, all too often, since my sense of direction is seriously compromised, find myself getting very lost as I try to follow signposts. And my theory is that the people who put up the signs already know the road very well, and so don't always know where the signs need to be for those of us who don't. And I suspect the same thing is true for any organisation – and, in our case, for our church. With the best will in the world, and I believe we have that, and all sorts of good intentions, yet still, we forget what it is like not to know at all what is going on, and therefore what needs to be explained.
Thank you to all of you who bear with my on-going bewilderment, and have the patience and gentleness to explain things to me. Can I invite you to join me in considering what we need to "explain" to help people find us, understand us, join us, feel at home with us…..
Aug 29, 2018
Autumnal Restarts
Things are starting up again….the Day Centre reopened this week, and the Toddler Group restarts soon, as do the various young people's groups. The building, which has never been exactly empty or quiet, is getting back to its busy and well-inhabited self. It's a lovely feeling.
From my study window, I see the door; I can see people coming and going, the bus drawing up bringing in folk for lunch, the youngsters playing in the garden as they wait to go in, or as they come out on the way home. I love to see the building so busy, so open and welcoming.
And it makes me a little uneasy; all this activity provokes my sense of "I should be out there doing stuff, I should be busy"….without necessarily having thought through either what I should be doing, or whether I should be doing it.
It's the time of year when one set of rhythms changes to another – when the slightly more leisurely spaces of summer give way to the busy and satisfying activity of autumn.
As we move from one to the other, it is helpful to take a moment's reflection. Am I doing this because it is what is needed from me right here, right now, or because I simply fall in line with expectations – mine or other people's about what I "ought" to be doing? Is this where and I how I can serve and thrive best, or is this about making me feel good and satisfying a system that has taken on a life of its own?
There isn't always time to ask these kind of questions. They can be uncomfortable. But this time of year, as we move from one set of activities to another, it can be useful to reflect. And then, as we take up our tasks again, we do so with renewed commitment, with real commitment and not "just because"…a position that might not be healthy.
We are deeply grateful to all those who "do stuff" to make our church function in all the ways it does. It is good to see the building so well used. It is even better to know – as I trust we do – that we are doing all this because we know that this is what we are called to as this people of God, for this place at this time.
Aug 22 2018
Changing the world, one step at a time....
It was one letter wrong in the email address. But, instead of simply bouncing back as "undeliverable", it actually landed in somebody's inbox. I was trying to tell one of our folk news about somebody else….not a crucial email, but something that I wanted to do.
Fortunately, the person who wrongly received the email was gracious enough to contact me and say that he thought I should know it had gone to the wrong person. I am glad, because it would have been easy for him simply to ignore it, put it down to a crank, or even get irritated.
It was a simple gesture of taking seriously the life of another person, unknown and probably never to be met – recognising their need and responding to it, in circumstances in which not doing anything would have been both easier and not noticed.
It was both respectful and kind.
It is a little sad that one finds oneself sometimes surprised by such care – but salutary; if it is surprising, then it is even more important to do it.
The call of the gospel is to subversive living; living not the way that might be assumed, but in line with the values and practices of the Kingdom of God. And it can feel like a huge thing. In a world of violence, it is hard how to know to be a peacemaker, because it all seems so complex and far outside our sphere. In a world of economic injustice, it is really hard to know how to engage in ways that actually make a difference. In a world in which people live with such demanding and chaotic needs that are far beyond what most of us will ever experience, it is hard to know how to make a difference.
But a simple answer to an email that could just have been ignored made a difference. The organisation Amnesty International has demonstrated how letters – and now emails - can change things. Food banks, organized around collecting tins and packets, a few at a time, have made life better for countless folk. A phone call to a grieving widower can offer a smile and a change of scene…and we could go on.
The things that change the world are indeed huge. But they start really small; doing what needs to be done in that moment, for that person.
It can then develop, it can take on a life of its own, as other people get involved, as new possibilities open, as new challenges emerge.
Or not – sometimes, all it is is that one action. And that's enough.
Doing what's in front of us; the small thing that doesn't fit the assumed pattern…that can be all it needs to be, and that is open to us all.
I am grateful to the unknown person who took the time to answer my mis-sent email. I hope I can learn the lesson from it.
Aug 17, 2018
Holy Holidays
It's the time of year when holidays alter our routines; things don't happen when they usually do, things don't happen at all, other things happen….and usually, it's great. We get to have time off, time away, to see people we don't often see, to indulge ourselves, to have different kinds of fun.
The term holiday, of course, derives from the Holy Day – times when the church calendar disrupted the work calendar, and time out was taken to celebrate a saint or a festival.
The link between the two ideas can lead to all sorts of helpful (and occasionally over-pious!) thoughts…that spending time with God is a good thing, that such a practice refreshes our souls and our lives, that changing the rhythm of work and responsibility is necessary for our well-being.
And it is also worth remembering that such "disruption" is not always easy or pleasant. Holidays can be disorientating – where are we, where are my familiar things and routine? What am I supposed to do if not my normal activities? Where are the people I know? My family used to joke that I was the only person they knew who could get homesick when away with her family…(I am better at holidays now!)
Sometimes changes to routine and rhythm are uncomfortable and difficult to handle.
Sometimes, especially when routine can be hard work, we feel moved to invite God to change things, to act and move.
And when we invite this, God listens and takes us seriously.
And sometimes, it is not a holiday, but demanding disruption, difficult transition, awkward changes.
However, our faith is that even in the toughest of these transitions, Love is at the heart of it, and we are not alone, or abandoned. We may feel that we are taken to a far away land where nothing is easy and sense is hard to find.
But in the end, we come home – to discover we are loved and held and sustained.
I hope you are enjoying you holiday, here or travelling. And I pray for you, for me, and for us, Holy Days, that, even if they are disorientating, will also be filled with life, love and promise.
Aug 11 2018
Welcoming in those who are passing by
We are just getting used to having a garden, now that we have moved into the manse. We have lived in flats for all of our married life, and this is a very new experience. In some ways, we are not doing very well – anybody know how to mend the cut cable of a motor lawnmower?
But one of the things we are loving is the wildlife – the birds, the squirrels and even the fox. We sit for ages and just watch them come and go. We have got hold of books to learn who we are seeing, and we are discovering how to keep very still so as not to disturb our shyest visitors.
We have also been learning how to entice them into the garden; water, seeds, nuts, fatballs – each bringing in different visitors.
It seems to me that we do something very similar as a church; we offer different things to different visitors to our building – space to play for the tinies and their carers who come to Toddler Group; companionship and good food – and help with transport – to those who come to Day Centre; stimulation, adventure and friendship for those who come to the Youth Groups.
And for those who come on Sundays? I hope that what is on offer is community and relationship, refreshment, challenge and encouragement. Above all, I hope that what we offer is space, time and context to seek and deepen encounters with our God who is the root and ground of our being.
But one of the things I have noticed with the visitors to the garden is that when some are present, others are not; once the fox turns up, everybody else scarpers. When certain of the larger birds arrive, some of the smaller ones retreat to the trees. Of course, I don't think we are in the habit of scaring one another off when we come to worship. But I wonder if we can take it a stage further; I wonder how we might offer one another invitation and encouragement to go even deeper in our encounter with God.
And, I wonder how we might discover ways of making that possibility available to others who, as yet, have not found a home with us on Sundays?
As always, I would love to hear ideas.
Aug 4th 2018
Sharing food
"Food tastes so much nicer when you eat it in company".
It was the statement of one of the regular attenders at the Day Centre earlier this week. She was tucking in – as we all were – to a lovely meal of gammon, sauce, roasties and broccoli. The food was great, the care in serving it wonderful, the conversation pausing as we all enjoyed the food. And she was right – it tasted good, but it tasted better because we were eating it together.
Our Day Centre exists to give people "companionship" – literally, "eating bread with"….company, food, some activity, and a place to come to that is a break from home, especially when home has nobody else in it.
It is a wonderful institution, and the people who make it work in all sorts of ways; driving, cooking, serving, washing up, entertaining….they are great and a gift to us.
And at the heart is this truth; food tastes better when it is shared.
This coming Sunday, as on most Sundays, we will share bread and wine as part of our gathering to worship. One of the distinctives of Baptists is that we do not have "private" communion. It is always a congregational activity – even when we share communion in somebody's home, because they are not able to come to gathered worship, it is on the basis of "two or three gathered in His name" – it is not solitary. When we share bread and wine, we are expecting to encounter the Risen Christ. And central to our theology is the conviction that such an encounter happens (not only, but significantly) in community with other believers. That's why church meeting is what it is; we listen together to seek to discern the leading of Christ, because together we are less likely to wander off on a path dominated by "my" interests, insights, or desires. Together, we can hear a wider sounding voice, and have more chance of hearing an invitation from the Living God – especially if it is an invitation that takes us to places that might make us uncomfortable.
To eat together is to build community. To share bread and wine together is to encounter the Risen Christ. To listen together is to trust in the possibility of God's leading.
It happens as we build a life together.
Here is good news embodied in our Day Centre; companionship is a key to the Kingdom.
July 25 2018
Dominos as a welcome!
This week, I have been playing dominos! (I love my work!) I was at the Day Centre, and various people thought that dominos would be a good use of time, and I was invited to join in.
It was the invitation that struck me. I've been to Day Centre a couple of times, and folk are beginning to recognise me. But being invited to join in – that's another level. That means I am not just a figure who sort of looms up and says hello and has no context, no reality. Rather, it means that I am recognised as a person with whom a relationship might be possible….I might even become a friend.
There is so much privilege in getting involved in a church community; and at the heart of the privilege is the assumption of relationship. Just because I have turned up and been invited to be minister, it is assumed that I am "part of the family", invited and involved in what is going on. It can be confusing as I get to know names, and work out stories, discover who is related to who, how far back the relationships go, and what the history is that I am being wrapped up into. (And my apologies when I get it wrong). But it never ceases to amaze, delight and humble me just how easily people welcome me in.
And it raises a question. It is easy for a minister (and the minister's family!) to come in; we are expected, plans are made for us, it is assumed we will get involved and will fit in. But what about when others come to visit, to wonder whether they might fit in, to have a look and try to see if they could have a home here. We aim to be welcoming, of course we do. But there are always ways to up our game.
Any thoughts – please let us know….
July 18th 2018
Hanging around
She looked at me with that direct stare that only a three year-old can manage and said "where are your children?"
Which was a fair question, since I was in the middle of her space, in the Toddler Group. All the adults present were there as carers for the various children - parents, grandparents, child-minders....and my introductory remark as I try to get to know people and introduce myself is often "which of the children are you with?"
So when I said to her "I don't have children" she looked suitably disapproving and said "then why are you here?"
I managed to put together an answer about coming to hang around and get to know people and to chat didn't seem to satisfy her - though when I stopped talking and paid attention to the trike she driving and which had a technical fault that I could put right, I was much more satisfactory.
Her question was a good one though - both with regard to the Toddler Group, and in general terms as minister of the church; why am I here?
Hanging around is in fact central to what I think I am about.....loitering with intent might be another way of describing it. Being around when folk come in to Toddler Group and day centre at least once a week for each, and getting to know people, sharing news, catching up on stories, listening to people's lives....dropping in to see people, especially if they are unwell or unable to get about much, not with any agenda except hearing what people want to say....and hanging around other voices - in books, in Scripture, to hear what we might want to say together in worship, in our prayers, our reflections, our preaching.
I confess to feel slightly out of place at the Toddler Group when I turn up with no child....and slightly out of place in all the other settings too, because I come without answers, solutions, visions. My understanding of being a minister centres on this out of place-ness, that my role is to be slightly on the edge, hanging around, noticing, listening, waiting.
So above all, I am grateful to all those who talk to me, who tell me their stories, who invite me to what is going on...and I pray that, as I listen, and reflect what I hear, we may together hear more deeply God's word to us of love, hope and life.
July 11th 2018
Starting out....
Well, I made it; here I am, duly starting work as minister of Grove Lane Baptist Church. And pretty bewildering it is too!
Not that people have set out to make it so, by any means. Folk have been incredibly welcoming, and patient, and attentive to what I need to know what is going on and to start to feel at home
But arriving somewhere new, and starting new tasks and roles is always going to have a certain flavour. No matter how well prepared one is, no matter how careful everybody is to explain and welcome and ensure you know where things are, to arrive in a community like this is to join in an on-going life, with its own story and patterns, history and assumptions.
And the only way to become at home in all of that is to join in, live through the bewilderment, make the mistakes....and hope it comes right.
It's good practice. Because it is just what we are all doing as we seek to join in with what God is doing in the world. Sometimes we can see it clearly, and know exactly what we are being called to do. But more often than not, it is to do with joining in an on-going story of which we only know our part. So, sometimes we are confused, sometimes we are uncertain, sometimes we are plain wrong - and very often we are bewildered.
And that's ok. As I am discovering, bewilderment is the way into discovery.
So, if I walk past you in the street without greeting you, or as a question that is really stupid, thank you in advance for your patience. I offer you my bewilderment as a model - of openness and of wondering; what might God do next?